On the Fazed.net message-board, where I found Balak01?s
Future of Comic Books?
a
discussion
began about how this approach had already been attempted in various fashions.
Someone posted an interesting
video
by
Scott McCloud
, author of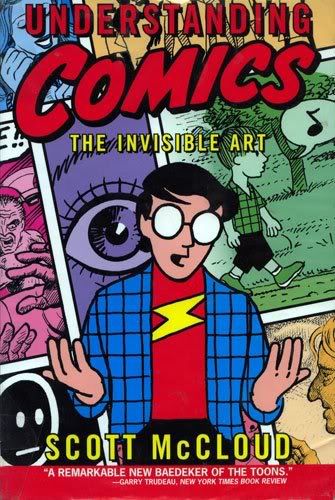 (which I believe we?ve already mentioned in class) discussing these different conceptions and the various attempts to transfer the form from one medium to the next. The video is a bit long, but the discussion of the digital starts around 11 minutes.
Someone else mentioned a ?digital graphic novel? based on the game ?Metal Gear Solid? available for Playstation?s Psp:
A
review
from IGN.com:
?Unlike the previous two installments, the Digital Graphic Novel really isn't a game; it's more like a visual interactive experience that depicts the incidents of Shadow Moses in a graphic novel format. The entire disc is broken down into three modes: the VR Simulation mode, the Mental Search mode and the Memory Building Simulation mode. The VR Simulation mode is the primary thrust of the title, and starts up almost immediately once the disc has been loaded. Running about two hours long, The VR Simulation mode is comprised solely from images by Ashley Wood, an Australian artist who is rather familiar with the Metal Gear Solid universe (he's drawn the official comic book for years).?
The
trailer
for the ?digital graphic novel? gave me the impression that it might be criticized by McCloud as digital animation, merely borrowing aesthetic elements of comic book art and transition without maintaining the spatial integrity of comic form. but I have not played the "game," so I cannot make this judgment.
Here are two of the comics McCloud discusses in his video:
Impulse Freak
, a hypertext comic. A format which McCloud criticizes for being "profoundly non-spatial."
And Drew Weing and his
infinite canvas